Welcome!
Our goal as Pediatric Dentists is to instill in our young patients a positive attitude toward dentistry that will last a lifetime. As a pediatric dental office, we provide specialized care for infants, children, and adolescents. We are especially caring towards children and adults with special healthcare needs.
It takes a team effort including parents and our staff to educate the child in maintaining a lifetime of cavity-free dental health. Dr. Cozart's philosophy has always been to engage the child in his or her own care. We believe in building a relationship on the foundation of trust with our patients and their parents. We both aim to instill an "I can do it" attitude in each of our patients. Thanks to Dr. Cozart's dedication and commitment to our children, kids leave the office with a bright smile and sense of accomplishment.
Our office serves patients living in Macon, Warner Robins, Milledgeville, Forsyth, Dublin and the surrounding middle or central Georgia communities. We both look forward to taking care of your toothy grin!
Meet the Doctor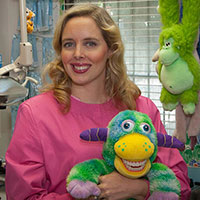 Dr. Natalie Olivia Ford Cozart, DMD is a native of Cordele, Georgia, but attended high school here in Macon, Georgia. She received her Bachelor of Science in Biology at the University of Georgia in Athens, Georgia where she was in the Honor's Program...